Sony KDL-40NX723(KDL40NX723)Video Review-Bravia 3D LED TV
By
http://www.soundandvision.co.uk/tv/lcd/sony-kdl-40nx723-kdl-40nx723bu-40-inch-full-hd-3d-edge-led-tv-1080-usb Click for low prices on Sony Bravia KDL-40NX723BU 3D LED TV Call Bolton 01204 861861
Review Of The Sony Bravia KDL-40NX723(KDL-40NX723BU) 40 Inch Full HD 3D Monolithic Edge Lit LED LCD Flat Screen TV With Freeview HD and Wifi
If you are in the market for a TV set that delivers in ability and looks but is a cinch to operate then you need to place the latest and greatest Sony KDL-40NX723 firmly on your shopping list.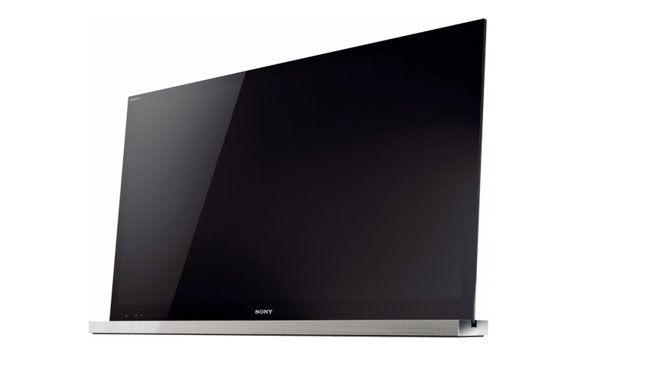 The immediate impact on this Bravia TV has to be its design and ultra contemporary ethos. The Sony KDL40NX723BU is almost like a black mirror and oozes sophistication that really sets the scene of what is to come.
Super slim design can only mean LED backlighting. The Sony KDL-40NX723BU LCD has at its heart LED dynamic edge lit technology to add extra contrast and colouration. With the ability to adjust, to a point, the level of darkness and intensity, this Bravia brings to the table amazing true to life natural colours and hues.
Motion handling on the Sony KDL40NX723 is handled by the latest XR200 Motionflow tech. By utilizing very effective 100Hz motion handling techniques then inserting into each frame a blank frame by clever back light blinking means that you get the equivalent of 200 frames a second to produce super smooth and super slick motion on even the busiest of Blu Ray action movie or Sky film.
A widescreen TV of this calibre also has built into it 3D capability. The revival of 3d has fortunately waited for a time at which the technology was able to reproduce a true 3D image that was as true to life and actually worth watching. The Sony KDL40NX723 attention to detail on the very best of Blu ray movies is only further enhanced by the ultimate way of watching a modern movie ie in full 1080p 3D. With more and more Blu Ray DVD films being produced, Sky broadcasting live football matches as well as Playstation 3D gaming, this is an exciting time to look at a high def television with such amazing developments being introduced.
To maintain the High Definition feel, Sony have manufactured into the television set a very handy Freeview HD receiver. Hook a standard aerial to the back of your shiny new Sony KDL40NX723 and begin enjoying your favourite terrestrial TV in amazing 1080i HD. Check for availability in your area on Freeview.com. With the digital switchover allowing for better information to be broadcast it is now possible to receive High Definition without the need for expensive Sky or Virgin packages. With most of the popular soaps in High Def, plus sports like Formula 1 and the upcoming Olympics, enjoy the very best of every day TV in a way never before possible.
This is one fully kitted out HDTV bundle. The Sony KDL40NX723 allows for direct TV recording on USB (even Freeview HD), it has an intelligent presence sensor so that if it detect no activity in the living space it turns itself off, Wifi for attaching simply and easily to the internet, DLNA for simple networking of you smartphone / iPhone / Windows 7 PC, X Reality to enhance noisy compressed video information eg Youtube, plus you can turn it into a picture frame with one of your favourite pictures displayed when not in use. Rounding things off are 4 HDMI connections with ARC, 2 x USB, PC Input, headphone output plus optical for attaching to home cinema / home theatre.
With great looks, insightful picture dynamics, plus a heart that pulses with multimedia, this is an ultra modern TV designed for now and well into the future. The Sony KDL-40NX723 will I am sure be a real big seller for 2011 / 2012.
To read more information and discover a low price on the Sony Bravia KDL-40NX723BU click on this link Sony KDL-40NX723BU
Specifications And Features
Picture/Display
– 40 " Diagonal Screen Size (Inch)
– 3D TV
– Edge Lit LED
– 16:9 Aspect Ratio
– 200Hz
– 1080p resolution
– 1920×1080 pixels
– Full 1080p HD
Manufacturers Technology Features
– Full 3D
– BRAVIA
Convenience
– Digital TV Ready
– Freeview-HD
– WiFi Ready
– DLNA Certified
– EPG (Guide Plus+)
– Sleep Timer
– On/Off Timer
Connections
– 4(2 Side/2Bottom) x HDMI Connection/s
-1 (Rear) x Component Video Connection/s
– 1 (Rear) x Composite Video Connection/s
– 1 (Rear) x Optical Terminal Connection/s
– 2 (side) x USB 2.0 Connection/s
– 1 (bottom) x Ethernet Connection
– 1 (bottom) x Standard Scart Connection/s
– 1 (side) x Headphone Socket
Accessories Supplied
– Pedestal stand
– Remote Control
– User Manual
– Batteries
Power,Weight & Dimensions
– 94.9 x 61.8 x 21.0cm Dimensions (W x H x D) With Stand
– 94.9 x 58.7 x 2.7cm Dimensions (W x H x D) Without Stand
– 111.5 x 68.2 x 12.0 WxHxD Inc Packaging
– 16.9 (with stand) Kg Unit Weight (Approx)
– 66 (home mode) W Power Consumption
– 0.30 W Standby Power Consumption
Batteries
– AAAx2 (Battery Type)
Network Access Features
– YouTube
– Love Film
– BBC iPlayer
Sound and Vision TV and Home Cinema Store
Sound and Vision Bolton
44-46 Higher Market Street
Farnworth
Bolton
Greater Manchester
BL4 9BB
Telephone: 01204 861 861
Website: www.soundandvision.co.uk
To read more information and discover a low price on the Sony Bravia KDL-40NX723BU click on this link Sony KDL-40NX723 Review